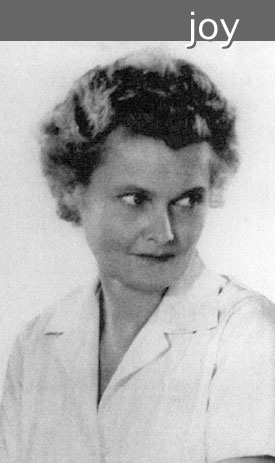 Joy Adamson's novel, "Born Free," awakened the Western world to the alarming loss of wildlife and habitat in Africa and other areas considered gaming havens. Today's wildlife preservation movement owes much to her popular story of how she raised, and then set free, a lion cub named Elsa.
Born into an upper-class Austrian family, Joy earned a degree in music and took up sculpting. She was taught to ride and shoot at an early age. She killed her first buck at 16, a feat she then refused to repeat. She decided to go on to medical school, but left to get married. Two years later,
at 27
, she divorced and went to Kenya to visit friends and fell in love with East Africa. Her botanical sketches earned her a place on a scientific expedition, where she met her second husband. She went on to illustrate seven more books of flora, and documented her botanical findings with specimens she forwarded to Kew Gardens in Britain. After this marriage ended, she met George Adamson, senior warden for the Kenya game department. They married in 1944, and she began a life that "amounted to 360 days a year on safari."
In 1957, George brought home three lion cubs, whose mother had been shot, and Joy agreed to nurture them. Raising three lion cubs soon became too much, so two of the cubs were sent away to zoos, hand-picked for their humane treatment of animals, while Elsa, the smallest, stayed behind. Because her infant charge had been born free, Joy was determined that the lioness would not be tamed or domesticated. She was allowed to roam free around the compound. She rode on the top of a Landrover, swam in the Indian Ocean with them, and accompanied Joy on art expeditions. However, as Elsa reached sexual maturity, the Adamsons were forced to prepare for her a return to the wild. After much trial and error, they succeeded and continued to enjoy yearly reunions with Elsa, although Elsa gently discouraged too much interaction with her cubs.
In 1960, at age 50, Joy wrote about the experience in her first novel, "Born Free," which was an instant international success. She used her fame to publicize the plight of wild animals around the world, and pledged every penny earned by her book and its three sequels to wildlife preservation.
In 1966, Columbia Pictures released a movie version of the book, further popularizing Elsa's story. Zoos responded by creating more humane conditions for animals, such as larger outdoor habitats, and a new form of travel known as "ecotourism" began.