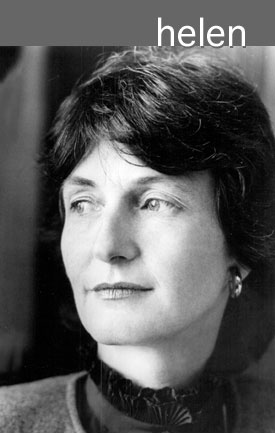 Born in Melbourne, Australia, Helen grew up knowing that she wanted to help people. She went to medical school, graduated second in her class, and began a general practice in Adelaide, South Australia. She married Bill Caldicott, also a doctor, and had three children. In 1970, while working at a hospital, she contracted serum hepatitis from a contaminated needle and almost died. Upon recovery, she said, "Like many people who have faced death, you feel as if you've been saved for something." She returned to medical school to study pediatrics.
She also became politically active. Having read Nevil Shute's novel, "On The Beach," about the devastation after a nuclear war, she focused her attention on nuclear weapons. In 1971, she learned that the French had been conducting atmospheric nuclear tests in the South Pacific, in direct contravention to the treaty they had signed in 1962. Australia was downwind from the fallout. Helen wrote a letter to her local paper, and was interviewed on television from then on each time the French detonated a bomb.
Radioactive contaminated water was soon detected in Adelaide, and Australians responded with widespread boycotting of French products; postal workers even refused to deliver mail from France. The next year, Helen headed a delegation to Paris. France decided to conduct its future tests underground.
In 1975, mining companies discovered huge uranium deposits in Australia. Helen fought to keep the uranium in the ground. Ignored by the media and the government, she turned to the trade unions. Her speeches at union meetings highlighted the effects of radiation on male genitals and children. The unions passed a resolution banning the mining, transportation and sale of uranium, which lasted for seven years.
Meanwhile, the Caldicotts moved to Boston to teach pediatrics at the Harvard Medical School. Helen published her first book, "Nuclear Madness: What You Can Do,"
at age 40.
She also revived the dormant group, Physicians for Social Responsibility and was the National President until 1983. 
In 1980, she resigned from her medical career to campaign full-time, and founded Women's Action for Nuclear Disarmament, a Washington-based lobby group. Four years later her husband followed suit. They made a short documentary called, "If You Love This Planet," which won an Academy Award. Two years later she was back, protesting uranium mining once more. She received the Humanist of the Year award from the American Humanist Association in 1982.
She met with Ronald Reagan, but was so unimpressed that she campaigned full-time for Walter Mondale's election. After Reagan was re-elected in 1986, she announced her resignation from anti-nuclear campaigning, and returned, disillusioned to Australia. Shortly afterwards, Chernobyl occurred. Ironically, that year she was nominated for the Nobel Peace Prize.
In 1988, she founded the Green Labor Party, a radical conservation political party, but quit when it became clear that her efforts were being sabotaged by the affiliated Australian Labor Party.
She continues to write books and lecture on conservation and nuclear war. The Smithsonian Institution named Caldicott one of the most influential women of the 20th century.