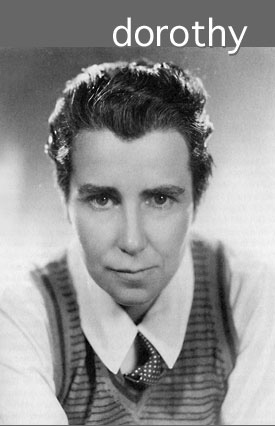 Unlike many women of her era, Dorothy had options. Born into an upper-middle class family in San Francisco, Dorothy was sent to Westlake, a private school for girls, by her stepmother who was concerned about her "tomboyish ways."  Set on medicine, Dorothy underwent two years of pre-med studies at the University of Southern California. During World War I, she left to join the Los Angeles volunteer ambulance corps, then worked in a doctor's office. But she soon tired of medicine: "I wanted to heal the sick and raise the dead instantly."
In 1919, after a chance visit, she found a job as a typist at Paramount Studios. But she was a terrible typist. She soon found another job in continuity. Then she was invited to help edit a film, and proved so adept that she was given another reel to cut, this time without supervision. Dorothy worked day and night, cutting 32 movies in one year and becoming chief editor.
In 1922, she cut Rudolph Valentino's "Blood and Sand."  Her intercuts between stock and original footage in the bull-fight scenes were masterfully executed and saved the studio a fortune. She soon gained a reputation for efficiency and economy. She also wrote several scripts, but what she longed for was the chance to direct. Frustrated, she threatened to quit unless she was given the chance to direct an A movie. The studio acquiesced.
In 1927,
at age 30,
she was given, "Fashions For Women," to direct, which she completed in two weeks. As Paramount's first woman director, she received more press than the leading actress. The film was a success with the critics and at the box office, so she was signed to a long-term contract with Paramount.  She went on to direct seventeen movies over a thirty year span.
Known for her deep respect for writers, she was also considered a starmaker, and is credited with launching the careers of Clara Bow (The Wild Party), Lucille Ball (Dance, Girl, Dance), Rosalind Russell (Craig's Wife), Ruth Chatterton (Anybody's Woman), and Katherine Hepburn (Christopher Strong). She also worked with Joan Crawford (The Bride Wore Red), and directed Paramount's first talkie, "The Wild Party."
Throughout this period she dressed in men's clothing and was well-known amongst the gay Hollywood set.  She met Marion Morgan, who was to become her life partner in 1927. They lived together in a luxurious Hollywood Hills home, and later in the California desert, until Morgan's death in 1971.  She also directed fifty Pepsi commercials for Joan Crawford; made training movies during World War II for the Women's Army Corps; and taught film at UCLA, to a grateful Francis Ford Coppola, amongst others.
She is the only woman director who survived and thrived in the studio system.  Although often dismissed as a maker of "weepies" by the (mostly male) critics, close analysis of her movies reveals complex characters and an emphasis on female intelligence and loyal friendships.  She was the first woman admitted into the Director's Guild of America, and in 1975, she finally received the recognition she deserved : a gala tribute honoring her as a pioneer woman director.