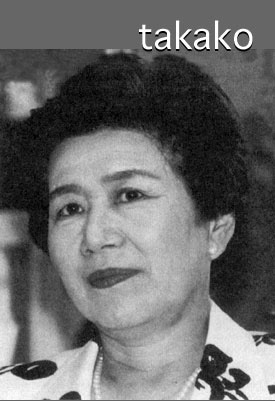 Chair of the Japan Social Democratic Party from 1986 to 1991, Takako Doi emerged as a national leader in a tradition-bound country where female politicians have been few and far between. In 1989, she lead the Socialists to a stunning victory over the ruling party in the Upper House elections, thus breaking an entrenched monopoly of power.
"Doi fever" swept across Japan, inspiring hundreds of politically inexperienced housewives and mothers to run for political office, many of whom were elected.  
Growing up in a progressive household, Takako initially planned to become a physician, like her father.  However, upon graduating from high school, she decided instead to study law at prestigious Doshisha University.  Towering over her fellow students at 5' 7", she intimidated many of her peers with her bold approach and formidable debating skills.  However, rather than become a lawyer, she took up teaching instead at her alma mater, and later at Kansaigakuin University and Seiwa Women's University.
Her foray into politics was unplanned.  
In 1969, at age 41,
her hometown newspaper erroneously reported that she planned to run for a seat in the Lower House of Parliament.  Doi immediately went to the mayor's office to explain the error, only to hear him joke, "Wouldn't it be really stupid to run in an election you know you have no chance of winning?" 
Outraged by the sexist remark, Doi decided to run for office.  She won, and was returned to office in seven subsequent elections.  Needless to say, she met with much resistance from her male colleagues, who viewed her self-assuredness as unfeminine, her low-pitched voice as too mannish, and her unmarried status as suspect.  However, she proved popular with the people, so her party duly voted her in as leader of the Socialist Party, making her the first woman ever to head a major political organization in Japan.
In her years as leader, she succeeded in weaning her party from its extreme Marxist-Leninist ideals to a more centrist position, and exposed corruption and sex scandals in the ruling party.  She also convinced more women to enter Japanese politics, making her contribution to the women's movement in Japan indisputable.