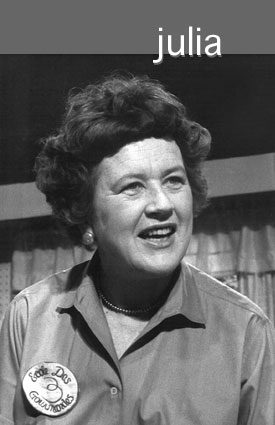 Raised in Pasadena, CA she graduated from Smith College in 1934 with a degree in history, having distinguished herself as a member of the college choir, Sophomore Push, and a "grass cop" for three years.  She then worked as a copywriter for an ad agency in New York.  During World War II, she joined the Office of Strategic Services, serving as a clerk in a document center in Ceylon, where she met her husband, Paul Child, an artist-sculptor.  After the war, the couple settled in Washington until 1948, when Paul was assigned to the American Embassy in Paris.
Paris changed Julia's life: "From the beginning, I fell in love with everything I saw." After taking French lessons and studying at the Cordon Bleu, she began giving informal cooking lessons in her Left Bank apartment. With the assistance of two established French Chefs, the classes eventually developed into L'École des Trois Gourmandes.
The success of this venture prompted a cookbook adapting French culinary techniques to American kitchens: "Mastering the Art of French Cooking."  
At age 49,
Julia found herself a popular talk-show guest. But it was her appearance as a guest on a Boston educational television show, whisking eggs while she chatted about her book that led to, "The French Chef," a cooking show that ran for nine years and turned her into a national institution.  "At the time," she said, "French cooking was the cat's whiskers.  Most of what people ate in this country was a kind of terrible ladies-magazine food, awful!"
Her sense of humor attracted more than just a culinary audience: a sizable part of her following couldn't tell a truffle from a toadstool.  During one show, after a flipped omelet rained down on the stove, she told viewers, "Well, that didn't go very well.  See, when I flipped it, I didn't have the courage to do it the way I should have. But you can always pick it up, and if you're alone, who's going to see?" 
By 1966, the show was carried on 104 television stations, and Julia appeared on the cover of Time magazine, and in cartoons in the New Yorker. She went on to publish ten more cookbooks, seven more television shows, and six one-hour instructional videos. She has twice received awards from the French government, including the National Order of Merit, and has also won an Emmy, and a Peabody.
In 1981, she co-founded The American Institute of Wine and Food with vintner, Robert Mondavi.  She continued to produce cookbooks, and remained one of America's most popular chefs. She received the French Legion of Honor in 2000, and in 2003, the U.S. Presidential Medal of Freedom. She passed away in 2004, having donated her kitchen to the National Museum of American History.