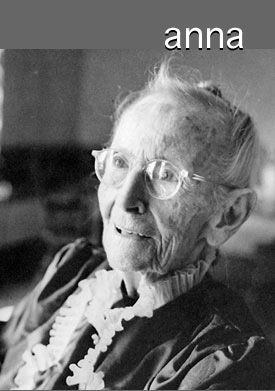 Anna Mary Robertson left home at twelve to earn her living as a "hired girl" on a neighboring farm.  At 29, she married Thomas Moses, with whom she had five children, and they settled in Staunton, Virginia.  Investing in a cow, Anna started a butter-making operation that produced 160 pounds a week : "Always wanted to be independent. I couldn't bear the thought of sitting down and Thomas handing out the money."  In fact, when Thomas borrowed from her, she charged him interest.
She was just 34 when Thomas died, so she started taking in boarders to make ends meet. She started painting rural scenes when she became a grandmother, and the need to pursue "useful" activities had diminished.  Ever thrifty, she used whatever surfaces she could find : an old window, salvaged canvas from a threshing machine, even tree mushrooms, which when dry turned hard as wood.

At age 78
, she was "discovered" by Louis Caldor, an amateur art collector on vacation from New York City, who chanced upon four of her paintings on display in a local drugstore in the Berkshires.  He bought a dozen of her paintings that day, and began sending her art supplies and letters of encouragement.  Approaching art galleries in New York, he succeeded in arranging an exhibition of her work, which was then reassembled by Gimbels department store, and displayed as part of its Thanksgiving promotion.
Though Anna had declined to attend the art gallery exhibit ("Why bother? I had already seen the pictures") she agreed to go to the Gimbels opening. The New York press descended "like chickens (that) come runnin' around when you go to the door to feed 'em."  She soon tired of all the attention, and expressed indignance at the label 'primitive artist,' claiming that her neighbors said it made her sound illiterate.
Nevertheless, she continued painting, as it proved more profitable than taking in boarders.  Her work appealed more and more to a nation seeking escape from a post-World War II, Cold War reality, and inspired many an untrained artist to try painting. 
In 1946, Caldor licensed her paintings for reproduction as greeting cards, catapulting her to national fame.  She became indisputably associated with Thanksgiving and Christmas.  Other items followed -- drapery fabric, plates, wall murals -- but Anna insisted they make only those products that she herself might use.  With each passing year, her birthday was celebrated by the national press.  She made the cover of Time and many other national magazines.  For many political hopefuls, shaking Grandma Moses'  hand became as compulsory as kissing babies.
In March of 1960, at age 99, she agreed to illustrate Clement C. Moore's famous poem "The Night Before Christmas" and completed the last illustration in November of 1960, after her 100th birthday. 
By the time she died, she had produced over 2500 works of art.  While her age contributed to her fame, her work has stood the test of time, disproving those critics who once proclaimed her art as lacking real merit.