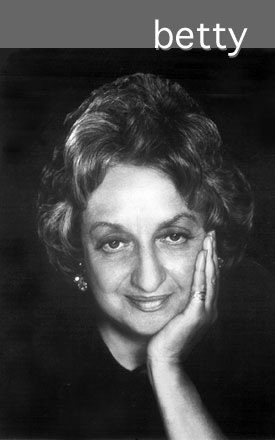 In 1942, Betty graduated from Smith College summa cum laude, and moved to San Francisco to pursue a graduate degree in psychology. However, she left after only a year, traveled to New York City, and found a job as a reporter for a small newspaper.  She married Carl Friedan in 1947, and after the birth of her first son, moved to the suburbs. She didn't enjoy life as an isolated housewife and mother and soon went back to work. But with the birth of her second son, she returned to life in the suburbs, resigned to her social role. She had a third child, a daughter, and her sense of dissatisfaction and boredom grew. 
A year later, in 1957, she was asked by the Smith College Alumnae Association to conduct a survey of her classmates to see how their education had affected them. The results inspired her to write her ground- breaking book, "The Feminine Mystique," which explored the feelings of conflict and unease experienced by women whose identities consisted solely of being "someone else's wife or mother."  
When it was published in 1963, it launched the second wave of feminism, and made Betty famous. She was 42.
Encouraged by the success of the civil rights movement, women began organizing to protest gender discrimination. In June 1966, a group of women formed the National Organization for Women, and Betty, now 45, was elected the first National President.  
A string of successes followed. NOW launched a successful campaign to eradicate listing jobs in newspapers by sex. As a result, "Help Wanted, Male" and "Help Wanted, Female" were replaced in all publications with "Help Wanted."  They lobbied successfully for women's access to all-male specialty high schools and colleges. They promoted consciousness-raising groups where women could learn about the social patterns that lead to oppression.  They fought for pregnancy leave and for the right of a married woman to continue working. They instigated sit-ins at restaurants, including the New York Plaza's Oak Room, to protest policies that restricted access to women unless accompanied by a man.  
Most successfully, Betty organized the March for Women's Equality in 1970, on a budget of only $10,000, which resulted in marches and related events in several major US cities, including New York City. However, as the movement grew, Betty found herself in conflict with women who wanted to include abortion rights, lesbian rights, and left wing politics in the feminist agenda. She was accused of ignoring women of color and working class women, and was gradually eclipsed by more charismatic leaders like Gloria Steinem and Bella Abzug.  She continued to write, producing six more books, and lived to see her role as a founding member of the women's movement validated and honored.  
She remained optimistic and positive about women's accomplishments, and continued to advocate universal health care and child care in the United States, until she passed away on February 4, 2006, her 85th birthday.