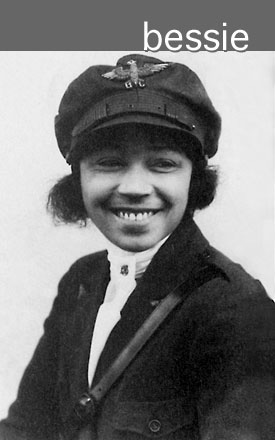 In Chicago in the fall of 1920,
Bessie Coleman was 28
and working as a manicurist when her brother John, an ex-serviceman, entered the barber shop where she worked and declared that the women in France were better than the women in black Chicago since they "could even fly airplanes."  Incensed, Bessie vowed to prove him wrong and set about learning to fly.
Finding a flight instructor was hard enough for a white woman in those days; it was impossible for a black woman. But Bessie had made up her mind. Raised on the stories of Harriet Tubman and Booker T. Washington, she was determined to "amount to something." She found a benefactor in Robert Abbott, editor and publisher of the Defender, who advised her to study French and paid for her to attend flight school in France, where she was less likely to encounter overt racism.
She gained her pilot's license at 29, and went on to train with Anthony Fokker (designer of Fokker Friendship planes) and to develop her skills as a daredevil aerobatics stuntwoman with the help of a German World War I flying ace.  Upon her return in 1922, she gave an exhibition flight attended by several thousand spectators, and received critical acclaim in both the black and white press.  More exhibitions followed in Memphis and Chicago.  Her flying skills, good looks, race and gender all contributed to her growing fame, not to mention her self-designed costume : a military jacket, riding breeches, a long leather coat and a leather helmet with goggles pushed up so the audience could see her face as she climbed into the cockpit.  
Poised, self-assured and market-savvy, she soon made a name for herself from Maine to Georgia and Texas, where she insisted on a non-segregated main gate for all ticket holders.  She dreamed of opening a flight school for African-Americans, and spoke about it every chance that she could, in churches, theaters and schools.
On April 30th, 1926, the day before an exhibition in Jacksonville, Florida, she and a mechanic-pilot flew over the field where she was to make a parachute jump.  Too short to see over the cockpit's edge, she wore no safety belt, and, as she leaned over to survey the field below, the plane suddenly accelerated and flipped over.  She fell 1,500 feet to her death.  The plane crashed nearby, killing the pilot.
However, her story survived and inspired millions, including Lt. William J. Powell, who founded the Bessie Coleman flying clubs, and the Tuskegee US Army fighter pilots of World War II.  Every year on Memorial Day, the Tuskegee Airmen fly over Bessie Coleman's grave and drop flowers in her honor.