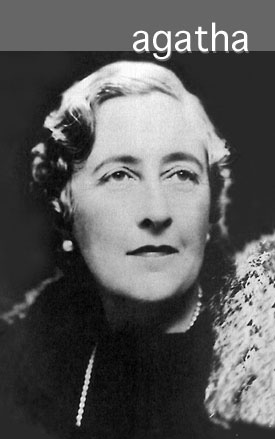 Born into a wealthy English Victorian family, Agatha Christie intended to follow a musical career, but found that her temperament was unsuited to public performance. 
When World War I broke out, she volunteered as an army nurse in England and became engaged at 22 to a handsome pilot named Archie Christie.  She went on to work in the hospital dispensary, and it was here, during slack periods, that she began planning her first detective story, "The Mysterious Affair at Styles," starring Hercule Poirot.  However, its completion would have to wait until after the war and the birth of a daughter, Rosalind.
She was 30 when the book was finally published.
In 1923, she left 4-year old Rosalind in the care of her sister, Madge, and traveled extensively throughout the British Empire with Archie, who was working as a financial advisor to the British Government.  Agatha continued writing mysteries, at least one a year until her death.  
By 1926, she had become an established writer, and in 1930, she created Miss Marple, her most famous investigator. However, during this period, Archie had grown more fond of golf than his wife, and had fallen in love with another woman. Agatha was distraught. She disappeared for ten days, and a full-scale search was mounted involving hundreds of police and thousands of ordinary people.  She was found to be staying at a spa in Yorkshire, under an assumed name. 
After her divorce in 1928, Christie traveled alone to Damascus, Baghdad, and as far as Istanbul aboard the Orient Express.  While visiting the excavations at Ur, she met an archeologist, Max Mallowan.  She was 40; Max was 26. They were married six months later.
From then on, except for a break during World War II when she returned to dispensing, Christie spent part of her time in England, and part on digs abroad with Max.  She became skilled at documenting, cleaning, assembling and photographing finds, and even developed her own film.  
As well as mysteries, Christie wrote six serious novels and several plays, an outgrowth of her dissatisfaction with the adaptations of her works by others.  Her most famous play was "The Mousetrap," which enjoyed a 40 year uninterrupted run in London.
At 81, she was made "Dame Commander of the British Empire."  She remains the world's most popular mystery writer.